Stupid Asshole Yuval – 1st Bitch Bald!
We succeeded in getting the 1st Chow Chi Bai Bitch STUPID ASSHOLE YUVAL Head Shave Bald
The July 4th Creaming – Sunflower's World Independence Day
Published on Jul 3, 2017
Our brave and beautiful Sunflower once again exposes the Zionist Joos and the UN's role in supporting these evil devils who will draw us into World War 3 if we don't fight and resist them. You can read more at: http://www.thepoisonappleoftheworld.com… The UN must be replaced by Sunflower's Harmonious Nations of the World concept and she asks all of you to declare your Independence from evil Zionist Joos like Miriam and Sheldon Adelson and the disgusting Chow Chi Bai whores, The Zionist Women Forever Group! Happy 4th of July "Independence from Zionism" Day!
UN Must Fall for Freedom to Live!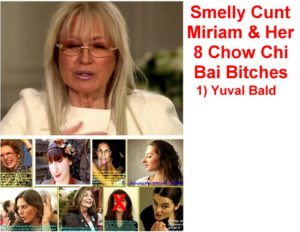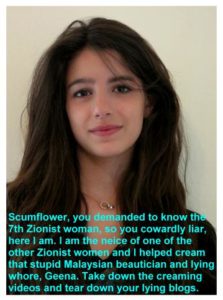 MESSAGE FROM MY POWERFUL FRIENDS:)
From: hair_dresser <hair_dresser@yahoo.com>
To: Sunflower Chong <sunflower_chong@yahoo.com>; janeandmarie <janeandmarie@yahoo.com>
Sent: Saturday, July 8, 2017, 5:46:40 AM GMT+8
Subject: Great news! – from Marie
Dearest Sunflower and ALL,
I received this message from Jane about 2 days after your 4th of July Creaming Video was posted on YouTube and on your blog. No one else in the family has seen it until now…I felt you should always be the first one to know how the videos have done….and your recent one broke some records!
Please read all of this message thoroughly….there is a lot of information that you may find fascinating!!! As I have said before, I only copy and paste now because of the danger of the Zionist Whores seeing the message if I forward it to this safe e-mail address. Here it is and I hope you are pleased and that everyone ENJOYS this update. All my love endlessly and for eternity, Your Marie
Dear Marie,
Please let Sunflower know that she has broken some records for the REAL VIEWS on YouTube in a 24 hour period! YouTube told me the actual view count was over 2,000,000 views in the first 24 hours! WOW! And soon after I uploaded the video, I got another message from Sunflower's Powerful Friends….I have learned to keep the computer on after I upload her creaming videos….here is what was on my screen and that I wrote down before it disappeared:
Sunflower Sister, you are accomplishing amazing things with your creamings. Please keep fighting no matter how exhausted you might be; Sister Sunflower, you are winning and the web is full of support for you and your creamings for freedom from Zionist tyranny. We intercepted a message between the Zionist Women Forever that was quite interesting. We have provided the relevant portion of the message that we believe you will find enlightening.
Now we are just 6 Zionist Women Forever leaders; after that prostitute, Whoreflower Chong did her ridiculous head creaming video! Yael's niece, Yuval quit the Zionist Women Forever leadership team after her public humiliation. Who would have believed the Goyim Cunt would do a creaming again AND so soon? And who would have believed that Miriam would actually have Yuval's head shaved bald by those Israeli women from the military?!?!?!?!
Our youngest member has left our Zionist team because she said she could not take the public humiliation! From what I heard, these Israeli women were like Amazons, so big and strong, and they used electric clippers on Yuval's long, beautiful hair and then held her down, lathered her head with shaving cream and used a razor to shave off every stubbly hair left….her head was completely shiny bald! Then, they paraded her around the offices to make the public humiliation even worse! Miriam is livid and hysterically angry because of that July 4th creaming video by the Singaporean Bitch!
You don't actually believe that Chinese cunt would do 6 more creaming videos, do you? I cannot have my thick, beautiful Jewish hair on my head shaved bald; I couldn't stand the public humiliation either! And I don't think Miriam is backing off of her threat to have one of our heads shaved bald every time this Singaporean scum does a head creaming video that focuses on Miriam and our Zionist Group! We have GOT to do something NOW! Maybe the Goyim Bitch is tired and will quit, but if she doesn't, we have a MASSIVE problem, and not to mention that our supporters are fleeing to Shitflower's side!!! We need a leadership meeting, NOW!