The Reaction of the Chow Chi Bai Bitches after I did the CREAMING
CHOW CHI BAI CREAMING ONE
http://www.palestinebedrockoftheworld.com/chow-chi-bai-creaming-one/
ON MY 3RD "PALESTINE FREEDOM CREAMING" I WILL CALL THEM MANY DIFFERENT KIND OF CUNTS IN CANTONESE:)
VIVA PALESTINE I WILL DIE FOR YOU MY BELOVED PALESTINE!!
Freedom Creaming for Zionists
Uploaded on Nov 9, 2014
This is for the Zionist "Chow Chi Bai" women. Enjoy the video, you KNOW what your are!
WE ARE CIVILIZED PEOPLE, WE DO NOT GO AROUND RANDOMLY KILLING PEOPLE OR BOMB COUNTRIES TO ANNIHILATE A PEOPLE SO WE CAN STEAL THEIR LAND LIKE ZIONIST ISRAEL OR ASSASSINATE PEOPLE LIKE THE MOSSAD. WE ARE CIVILIZED PEOPLE AND WE DON'T USE TERRORIST TACTICS ON PEOPLE JUST BECAUSE WE HAVE DIFFERENCES.
You seem to be under the impression that other people and other countries cannot do like what your stupid Mossad did in killing the most important scientists of Syria and Iran, but we will NOT stoop so low. We never stoop to the lowest depths that the Zionist Jews do as they perform their evil deeds of murder, theft and terrorism like the Devil himself. Only a devil would do such nefarious acts and do whatever they want at any cost to get what they want. Yes, now you evil Zionist Jews are the devil and the world will not tolerate living with the devil, no matter how you try to disguise yourselves! We know what you ARE!
WE ARE SIMPLE PEOPLE AND WE USE PEACEFUL TACTICS LIKE THE "PALESTINE FREEDOM CREAMING" AND I HOPE WE HAVE INSPIRED SOME FOLKS TO JOIN OUR CAUSE.
SO THE 7 ZIONIST BITCHES SAID I CANNOT DO 7 MORE CREAMINGS, BUT OTHER WOMEN CAN DO SO, RIGHT? SO, LADIES, IF YOU HAVE DONE A FREEDOM CREAMING, PLEASE SEND IT OVER TO ME FOR THEIR CHRISTMAS PRESENT AND MY EMAIL IS sunflower_chong@yahoo.com. Thxs:)
ALL THESE 7 AMERICAN CHOW CHI BAI ZIONIST BITCHES WHAT DO THEY WANT FROM ME I WONDER?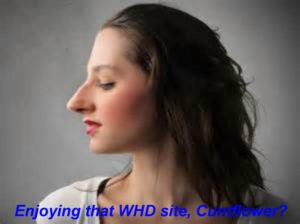 On Friday, June 19, 2015, 10:25 PM, marie <marie@hotmail.com> wrote:
Dearest Sunflower, I thought you should see this message from Janie right away! Wow!
Love you all forever,
Marie
___________________________________________
From: jane@hotmail.com
To: marie@hotmail.com; hair_dresser@yahoo.com
Subject: Another message from a NEW Zionist bitch
Date: Sat, 20 Jun 2015 12:55:46 +0800
Dear Marie and Steve,
I just got a post and picture from those Zionist bitches and it is new bitch we have not seen before! It was posted on the Vatican Creaming video on my YouTube page, so I guess they noticed, Hahaha! Please let Sunflower know because I had to get their vile filth off my YouTube page so I don't get suspended.
Love to you both,
Janie
This is the text that I copied and pasted:
Sewerflower, you obnoxious Chinese whore, stop this creaming shit! And how dare you talk to us the way you did in the video, you lowly Chinese smelly cunt! We are under attack because of you, slut….your lies about Zionism are creating some kind of a following of morons calling themselves "Sunflower's Pacifist Army".
But there are signs that you aren't so brave now with your big words….why so far from the camera again? Looks to us superior Zionist Women that you took an easy creaming, not so tough as the earlier ones. What's the matter, Cunflower, starting to lose your courage?
Listen, you obnoxious cowardly whore, stop this creaming crap or we will make you very sorry. Do you think we can't touch your lying blogs and that stupid new venture with your circle of morons there in Singapore? Remember, your precious hair will make great Zionist toilet paper! And then we will shave your head, Sewerflower.
Zionist Women Forever
___________________________________________________________________________
THE AMERICAN ZIONIST CHOW CHI BAI WANT ME TO STOP WRITING TO EU WHY ARE THEY WORRIED SINCE THEY SAID THAT EU WILL NOT LISTEN TO STUPID, BRAINLESS CHINKS LIKE ME:)
On Sunday, April 12, 2015, 10:25 AM, marie <marie@hotmail.com> wrote:
Dearest Sunflower (and Annie and Steve),
OMG! Here is another one! I attached the picture in case you have problems with taking it out of the e-mail, dearest Sunflower. This is unbelievable! These women are rabid AND this is yet another Chow Chi Bai and the ugliest one yet! Does this make 4 more CCB creamings, beautiful Sunflower? They are obsessed with your gorgeous hair, Sunflower, and your creaming strategy in combination with your EU letter writing campaign is really working. I will bet these aren't the only Zionists who are getting crazy because of you.
Love you all,Marie
_____________________________________
From: jane@hotmail.com
To: marie@hotmail.com; hair_dresser@yahoo.com
Subject: FW: Another one from the Jew Bitches
Date: Sun, 12 Apr 2015 09:54:53 +0800
Dear Marie and Steve,
Here's another one from the Zionist women jerks. This is what they wrote and below it, the photo they posted on my YouTube page.
Love you both, Janie
Whoreflower, how dare you post the chow chi bai creaming and continue defying us, you Singaporean cunt! Stop the creamings you stupid bitch or will use your Chinese mop of long hair like toilet paper to wipe our Zionist Jew asses and then shove your head in a dirty toilet and give you a shit shampoo! Stop those dumbass letters to EU leaders….they don't listen to stupid, brainless chinks like you. NO more creamings unless you want to be bald!
_______________________________________________________________________________
THE AMERICAN ZIONIST CHOW CHI BAI ARE SCREAMING ON TOP OF THEIR VOICE TO STOP ME FROM DOING ANY MORE CREAMING, THEN WHY ARE THEY SENDING THIS OLD UGLY BITCH PHOTO TO ME!!
"What I don't understand is that Steve just told me he would soon have a video for me to post, but I haven't received it from him yet and not even posted anything, so how do they know anything about it?! Here is the pic they posted:"- Jane
"I KNOW THE EVIL ZIONIST JEWS SAW THE VIDEO WHEN I UNLOAD TO DROPBOX TO SENT IT TO HAIRDRESSER IN AMERICA FOR EDITING!" – Sunflower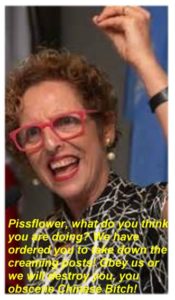 On Sunday, March 22, 2015, 1:02 PM, marie <marie@hotmail.com> wrote:
OMG, Sunflower,
I just received this from Jane a minute ago…you must be making them go insane. I hope you don't think I am the bearer of bad news when I say this is the 4th photo of a Zionist Bitch…doesn't that mean 3 more creamings instead of 2 more? They really seem like they are becoming unhinged crazy! And how could they know anything about your latest creaming?!!! One thing I loved to read…they are receiving HATE MAIL! Love it!
Love you forever,
Marie
_______________________________________
From: jane@hotmail.com
To: marie@hotmail.com; hair_dresser@yahoo.com
Subject: Another one from the Jew Bitches
Date: Sun, 22 Mar 2015 12:53:28 +0800
Dearest Marie and Steve,
I have yet another post and pic that appeared on my YouTube page, and as usual, these Zionist bitches use such horrible language that I have to immediately remove it from my page or YouTube will suspend my page. Here is the copy & paste of what they wrote:
Pissflower, you obnoxious Chinese cunt, why haven't you bowed down and obeyed us? You are to remove every creaming post from your blog of lies! You are not fit to wipe our asses, and we would love to take all that hair of yours and use it like toilet paper! Because of you, we are getting hate mail, you asshole bitch!!! How do you like your World Harmony Day site now? We all laughed at your idiocy being a stupid, gullible Chinese whore. Oh, and we heard you were practically hiding from the video recorder, you were so far away from it to make one of your pathetic little lying speeches….are you getting afraid of us now, acting like a little Chinese wimp way far away from the camera? Obey us, take down the posts, no more creamings, or we use that long, Chinese head of hair for toilet paper and then shave your mop!

Zionist Women Forever
_________________________________________________________________________

THE AMERICAN ZIONIST CHOW CHI BAI SEND THE LATEST PHOTO MISSING THE 'T':)
And this is the pic that I copied before I removed their disgusting message and photo from my page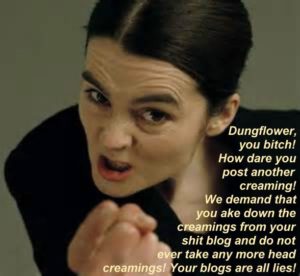 It looks like they got so mad that they misspelled "take"! Hahaha! Tell Sunflower that I will host her videos for the rest of my life or until the Zionist Jews find a way of crashing my YouTube page. According to the YouTube people, Sunflower's Birthday Creaming videos should have over 1,000 views already….these creaming videos are on FIRE, but the Jews have been suppressing the view numbers somehow…even YouTube can't figure out how they are doing it.
Love to all,
Jane
On Saturday, February 14, 2015, 9:15 AM, marie <marie@hotmail.com> wrote:
Dearest Sunflower and all,
You are making great progress! Janie got another photo and message for you posted on her YouTube page! Read all of what Janie sent and enjoy the discomfort you are putting the evil bitches into, dearest Sunflower.
With all my love to all of you,
Marie
________________________________________
From: jane@hotmail.com
To: marie@hotmail.com; hair_dresser@yahoo.com
Subject: FW: Another message from the Jew women….
Date: Sat, 14 Feb 2015 09:08:15 +0800
Dear Marie and Steve,
I guess Sunflower did it again…I got this pic on my YouTube page and with another foul and toxic message from the Zionist Women Forever which I copied and pasted for you to send along to Sunflower so she knows she is driving them batshit crazy! The text of the message was:
Dungflower, you obnoxious whore! Stop posting the creamings and your letters on your lying blog! You have defied us again, you Chinese cunt, and posted that birthday message…how dare you? We wish we had been there to finish the job and shave your head bald! We are under attack because of you and this creaming nonsense! Take it down immediately, Bitch!
________________________________________________________________________________
On my 3rd PALESTINE FREEDOM CREAMING which was on my birthday I did not call them names instead I CALL FOR THE WORLD LEADERS TO HOST WORLD HARMONY DAY IN THEIR RESPECTIVE COUNTRIES ON 20TH FEBRUARY 2015 http://thepoisonappleoftheworld.com/are-we-waiting-for-another-sept-11-before-we-come-together-as-one-global-family/and I received an ANGRY EMAIL FROM THE AMERICAN ZIONIST BITCH!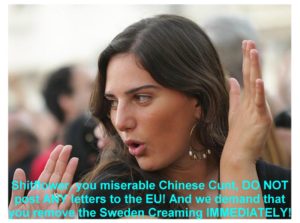 On Wednesday, January 28, 2015, 7:37 AM, marie <marie@hotmail.com> wrote:
OMG, Sunflower! You did it again! Here is the message I just received from Janie who hosts your videos on her YouTube page. Wow!
Love you both,
Marie
From: janehan@hotmail.com
To: maries@hotmail.com; hair_dresser@yahoo.com
Subject: Another message from the Jew women….
Date: Wed, 28 Jan 2015 07:34:56 +0800
Dear Marie and Steve,
Thought you would want to know that another message was posted on my page with this photo from Zionist Women Forever. I copied and pasted the text they posted before removing it from my YouTube page. Tell Sunflower I loved her Sweden Creaming and it looks like the Palestine Freedom Creamings are having a major impact on the Zionists!
Love to both of you and Sunflower,
Jane
This is the text:
"Shitflower, back off on publishing any of your idiotic letters to the EU leadership. And remove that asinine video of the Sweden Creaming, we will not tolerate you doing these videos and taunting us! Maybe we will find some faithful Zionists in Singapore to shave your head bald! Then your hairdresser boyfriend won't want you to suck his cock anymore!"
Zionist Women Forever
MY REPLY
Hello Chow Chi Bai Bitches,
How dare you write such a dirty remark and smear my name. You know Hairdresser's girlfriend is Geena and now you said things that are not true when you hurl your insults at me. This really shows us how evil-minded and twisted you Zionist Jews are!
How DARE you demand anything of me! You disgusting Chow Chi Bai think you can order me to do something because you don't like to have your intimidation tactics exposed.The PALESTINE FREEDOM CREAMING FOR SWEDEN will REMAIN on my blogs, CCB Bitches! You don't like the creaming videos because they show how you humiliate people that don't agree with your warped Zionist views! It's interesting that you don't eat pork because your behavior shows that you are all pigs!
If you want to find faithful Zionists in Singapore you will be disappointed because WE ARE WIDE AWAKE ALTHOUGH MANY PEOPLE THOUGHT THAT WE ARE SLEEPING, JUST LIKE MY MARONITE LEBANESE EX HUSBAND! WE CHINESE ARE TOO CLEVER AND WE WILL NEVER ALLOW THE EVIL ZIONIST JEWS TO USE US! I am living proof to show to the world what we are made of! Oh, and my hair, CCB Bitches, I am growing it even longer, so dream on about shaving my head bald…you are going to see my beautiful Chinese hair longer than ever representing my DEFIANCE of all of you. And as promised, I will shove Palestine recognition down your throats until you CHOKE!
But not to worry if you really want to attack me you can call the Mossad office in Singapore. WHAT ELSE CAN YOU EVIL ZIONISTS DO EXCEPT TO THREATEN, BULLY, INTIMIDATE AND RANDOMLY KILL AS AND WHEN ALL OF YOU FEEL LIKE IT. AND YOU EXPECT THE WORLD TO JUST ACCEPT IT BECAUSE YOU USE THE LIE THAT THE ZIONISTS ARE GOD'S CHOSEN PEOPLE? YOUR DISGUSTING PROPAGANDA CAMPAIGN AND EVIL WORLD PLAN HAS GOT TO STOP, AND I, CHONG SUN WAH, WILL STOP YOU DEMONS WITH THE HELP OF EU!! CHOKE ON THAT, CHOW CHI BAI!
Sunflower Love for Humanity is Forever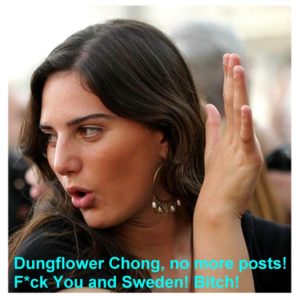 From: jane@hotmail.com
To: marie@hotmail.com; hair_dresser@yahoo.com
Subject: Wow, some response!
Date: Mon, 8 Dec 2014 13:44:02 +0800
Dear Marie and Steve,
Well, Marie, when you asked me to post a challenge to "the cowardly Chow Chi Bai to show come out from under the rocks they hide under and show themselves" (I loved your wording), I never expected a response. Well, I was wrong!
The attached photo was posted by a woman who appears to be a member of a group calling themselves Zionist Women Forever. The photo and caption are self-explanatory but because of some foul language that came with the photo posting on the "comments section" for the video of Sunflower's Palestine Freedom Creaming Part 1, I had to remove the comment and pic from my YouTube page. I knew you would want to know about it and make Sunflower aware of it, too.
Also, the views for Sunflower's videos are frozen at 301, but I checked with YouTube and they said they had well over 1,500 views in their records and they cannot understand why the views are stuck, but I think I know who is behind the frozen view count.
Love you both,
Jane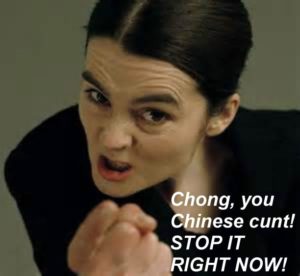 On Wednesday, November 12, 2014, 9:59 AM, marie <marie@hotmail.com> wrote:
Dear Sunflower and All,
Sunflower, it looks like you and Steve are driving them insane (maybe we will get lucky and they will all jump off of a very high bridge!). See the message below from Jane. It should make a good start to your day, dear Sunflower!
Love you all forever,
Marie
_____________________________
From: jane@hotmail.com
To: marie@hotmail.com; hair_dresser@yahoo.com
Subject: What did you two do?
Date: Wed, 12 Nov 2014 09:54:54 +0800
Dear Marie and Steve,
Wah! What crazy stuff I am getting after you gave me that Zionist video to post, Steve! The reaction is amazingly nuts! I cut and pasted the actual post on YouTube before I deleted it, here it is:
Sunflower Bitch Chong, you whore! How dare you post this motherf*cking video taunting us Zionist women!!! How dare you THREATEN us with taking 7 creamings!!!! You miserable bitch, even you can't take 7 creamings! We know the humiliation is too great and EVERYONE gives in after a few times. Don't even think about trying to do that many creamings, one of our valued women members received a hate filled message with a threat to cream her head, you Chinese slut! We will get you yet, and you better not take more creamings, you Chinese whore cunt!
Zionist Women Will Win (Win Your Fucking Asshole!)
I am not changing in my commitment to you two and Sunflower; I will continue to host the creaming videos when you send them. By the way, these Zionist nutcases tried complaining to YouTube and they sent me a message that the videos were completely acceptable! So, the Jew Bitches can't stop them! Hahahahaha!
Go Palestine Freedom Creamings!
Love you,
Jane (PS: Please let Sunflower know the Palestine Freedom Creaming video already has more than 300 views….almost all coming from her blogs/sites!)
From: marie sings <marie@hotmail.com>
To: Sunflower Chong <sunflower_chong@yahoo.com>, annie apple <passitalong@hotmail.com>, Geena <geena@yahoo.com>, hair dresser <hair_dresser@yahoo.com>, Jew Creamer <humiliatejewgirl@yahoo.com>,
Date: November 13, 2014, at 9:11 AM
Subject: FW: What are you folks doing? Another comment…
Well, Sunflower and all, the new posts in the blogs triggered another post at Jane's YouTube site. I think we were right about what the Jew Bitches meant in their last rant. Love to all, Marie
From: janehan@hotmail.com
To: maries@hotmail.com; hair_dresser@yahoo.com
Subject: What are you folks doing? Another comment…
Date: Thu, 13 Nov 2014, 09:04:14 +0800
Dear Marie and Steve,
You must be really making someone nuts! Now I got this comment posted to YouTube…I copied and pasted before deleting it.
Sunflower, you cowardly Chinese cunt! We knew you would find some slimy, dishonest way to get out of the 7 creaming threat. Yes, you are a dishonest whore who makes stupid chink empty threats! You could never stand up to 7 creamings because you are a vain slut who could never take that much humiliation!
You ask others to take your place because you don't really believe in your idiotic dream, do you, whore? You are just an anti-Semitic cunt who tries to sully the reputation of honest Zionist Jewish women. You don't have the courage to take 7 creamings, you cowardly Palestinian loving BITCH!
Zionist Women Rule Over Cowards Like Sunflower Bitch Chong ( ZIONIST "CHOW CHI BAI BITCHES" ARE NOTHING BUT LOSERS:) )
Well, it seems like these crazy women are really coming unglued, but also challenging our Sunflower. I wonder what is coming next…Hahaha!
Love you both,
Jane
_________________________________________
From: jane@hotmail.com
To: hair_dresser@yahoo.com; marie@hotmail.com
Subject: Wow! Some reaction!
Date: Mon, 10 Nov 2014 07:05:27 +080
Hi Marie and Steve,
When both of you asked me to host Sunflower's 2nd Creaming video on my YouTube page, I was happy to do it. But, wow! has there ever been a big reaction! It appears that the comments that were posted came via people seeing it on Sunflower's blog or blogs (the views are going crazy, by the way!).
I have been deleting the comments that have been posted because YouTube can shut down my page if there is abusive language, but I thought you might want to pass along an example to your Sunflower. Here goes (you won't believe it!):
Sunflower, you miserable BITCH! How dare you do another creaming video when we told you not to. What is it with you, anyway? You dare announce a THIRD CREAMING???? And you Chinese slut, you use that chink language to call us names? All of our Zionist women have gotten e-mails that are addressed to 'chow chi bai', you rotten bitch!
Zionist Women Against Palestine(THE WORLD AGAINST ZIONIST ISRAEL!)
I am committed to supporting Sunflower, so don't worry, I will keep hosting the video. I reported the language and other threats I have received to YouTube so that my account remains in good standing.
Love you both,
Jane