SWEDEN FOR PALESTINE FREEDOM CREAMING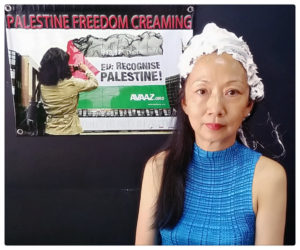 YOU IDEOLOGUE EVIL ROTSCHILD ZIONISM, DO YOU SERIOUSLY THINK YOU CAN SWALLOW CHINA & RUSSIA LIKE YOU HAVE DONE TO ALL OF THE 3RD WORLD COUNTRIES AND THE WHOLE OF THE MIDDLE EAST?
YOU CAN DREAM ON, YOU ZIONIST DEVILS! MY MOTHER SAID IN THE LATE 70'S THAT WHEN HENRY KISSINGER WENT TO CHINA THAT THE CHINESE HAVE A 5000-YEAR-OLD HISTORY AND IT IS NOT SO EASY FOR THE WEST TO TAKE OVER CHINA LIKE DURING THE OPIUM WARS BECAUSE THE CHINESE WILL NEVER FORGET! BUT, WE DO FORGIVE!
Sunflower's Freedom Speech For The Palestinians
See the Israel debate at
http://youtu.be/hKbJ1MHLLkQ
And be sure to watch for Sunflower's Palestine Freedom Creaming for Sweden's recognition of Palestine!
"I, Sunflower Chong, am Pro-Palestinian and Anti-Zionist Israel, and I will have my head creamed as a peaceful protest of the Zionist Jews stealing land that was never theirs and their terrible treatment of the Palestinians. I dedicate this Palestine Freedom Creaming to Sweden for their brave recognition of Palestine."
BRAVO SWEDEN! YOU BRAVED THE STORM, SHOWING TRUE COURAGE BY OFFICIALLY RECOGNIZING PALESTINE! Sweden recognizes the Palestinian state, and Israel recalls envoy.
I HAVE MADE THIS PROMISE http://www.palestinebedrockoftheworld.com/letter-to-all-world-leaders-who-have-not-yet-recognized-palestine/ AND I MUST HONOR IT.
Palestine Freedom Creaming for Sweden – Part 1
Published on Jan 10, 2015
Sunflower takes a Palestine Freedom Creaming for Sweden for their brave recognition of Palestine. This is Part 1 of a two part video. To learn more about Sunflower, please check this link:
http://www.palestinebedrockoftheworld…
Palestine Freedom Creaming for Sweden – Part 2
Published on Jan 11, 2015
To learn more about Sunflower, please check out this link:
http://www.palestinebedrockoftheworld…
This is the second and final part of Sunflower's Palestine Freedom Creaming for Sweden. Enjoy!
Allow me to share this letter to all world leaders who have recognized Palestine: http://worldharmonyday.com/letter-to-all-world-leaders-who-have-recognised-palestine/
And I sincerely hope that very soon you will see the sense in following in SWEDEN'S footsteps in recognizing Palestine!
And I, SUNFLOWER CHONG SUN WAH, HAVE DONE "A PALESTINE FREEDOM CREAMING FOR SWEDEN" IN HONOR OF THEIR OFFICIAL RECOGNITION OF PALESTINE! THE WORLD IS SO PROUD OF HEROIC AND COURAGEOUS SWEDEN!
LONG LIVE PALESTINE! WE ARE HERE FOR YOU AND WE WILL BE HERE FOR YOU FOREVER!
Love, light, peace, harmony, and unity,
Sunflower Chong
6 MILLION JEWS – Hitler said it right.."u want people to believe a lie? just keep repeating it …."
Falastinews.com – https://www.facebook.com/video.php?v=333318833537937
I have never asked you to share, like or comment before – PLEASE if you see this video on your timeline click share, leave a comment and like, because Zionists are reporting this video to remove it.
Save this video: Like, Share and comment and if possible keep a copy of it on your computer.
This video is banned on YouTube in many countries, WHY ?
Please watch, and think about the Zionists propaganda that started years ago when Hitler maybe was just a kid in the school. I am not talking here about the Holocaust if it really happened or not. In this video you will find the propaganda reports about Anti-Semitism and how they started their plan step by step.
This documentation exposes the Zionist killers and how they used everything, resources, wars and the "suffering of Jews" to build sympathy in order to occupy Palestine.
PLEASE WATCH AND SHARE, SINCE ZIONIST EVEN BANNED THIS ON YOUTUBE IN MANY COUNTRIES.
January 2 · Edited
6MILLION JEWS
https://www.facebook.com/video.php?v=333318833537937
http://query.nytimes.com/mem/archive-free/pdf…
Torgrim Johansen Here is a link to the New York Times Archives direct: http://query.nytimes.com/mem/archive-free/pdf…
$1,000,000,000 FUND TO REBUILD JEWRY; Six Million Souls Will Need…
query.nytimes.com
27 · January 2 at 7:09pm
Torgrim Johansen And many of the newspapers have online archives where you can search and download the information yourself. Hard to discuss against old archives Download and save. I think this will be a good year for all fights against the Israeli regime. Just remember the people living there is not nessecerely bad people. But their government is. And also I think its a mystery that 60 % votes on them. Lets make the world a better place. Happy new year!!!
16 · January 3 at 7:11pm
Angelika van Coevenhoven "…to build sympathy in order to occupy Palestine." to occupy palestine, germany and the whole world!
13 · January 3 at 2:12pm
Torgrim Johansen I used iSky soft to make a copy, and have this very very safe amongst some other useful videos. Why? I want the truth. I don't want Nazis, communists, religious fanatics or politicians to own (and that was the very sum of the minority groups of the world) the real information of the world. We are winning this war but it will cost us as usual and we will need to loose before we win. This is because we don't learn before we are threatened, and we are a very slowly learning kind of animals measured by the size of our brains!
22 · January 2 at 7:17pm
Torgrim Johansen There are now so many copies that it would be hard to fight it. If it is ever stopped ask for a copy.
7 · January 2 at 6:12pm
Jay Bradley Shaponpanee to ..the HOLOCAUST was a false flag ochetrated by the jews to build sympathy, so they could later enslave the planet…evil mother fuckers.
42 · January 2 at 2:35pm
Rick Rogers It's this sort of history that needs to be exposed, and learned ! Otherwise… these Zionist will continue to play their BS propaganda nonsense on the Un-educated world.
14 · January 3 at 4:08am
Sarwat Mannaa Hey folk, if you want know the truth about Palestine and Zionist occupation, search in Google for Balfour promise agreement in 1917 and you find out how the British mother fucker helped Zionists to get Palestine
10 · January 5 at 7:02pm
Susan Aweimrin The plan was to grab Palestine from the original Arab inhabitants since well before the 2nd world war- surprise, surprise!
8 · January 5 at 12:37pm
Assiya Alhaj I have no idea when will the Western CIVILISED World wake up and change its blind support for Israel???!!! OR are they actually using the Israel they had created to usurp the riches of the Muslim World through establidhing wars in that area??!!!!
5 · January 8 at 12:58am
Mhmdzain H. Alhazmi The European tragedy started after the battle of Waterloo and the rise of the London Rothschilds by sharing the British Royalty the loot of the Bank of London by deception.
3 · January 8 at 1:25am · Edited
Claude Brasseur The 1961 address by
Benjamin Harrison Freedman, a Jew himself, was an American businessman and anti-Zionist activist, accused of anti-semitism by ideological opponents. Throughout this video, Zionist are referred as Jews to facilitate understanding by the listening audience but Mr. Freedman refers to Zionists as being "so called Jews" at 34:35 minutes into the video because most of them "are not of Jewish descent". http://www.youtube.com/watch?v=bOiKKR0BxfE&feature=share
5 · January 6 at 2:21pm
Hasan Abdur Rahman Damn this is awesome , a written proof of how the zionists played the world.
11 · January 3 at 1:06am
Daniel John Barocio It is my impression as with many that there are certain Jews that yes are most likely within the Zionists system that are in control over not only the mass media but the governments banking systems as well. But still we must be careful with this information for it itself can be a tactic towards war against the innocent Jewish people that have nothing to do with Zionism or the super rich. It is in my belief that there are certain men that Have crept in that are possibly not even who they say they are in that they themselves arm postures calling themselves Jews but really they are anti-Jewish haters and propagators of war that eventually leads to Jewish Holocaust and a Holocaust of all people and all nations and more anti-Semitism. Jewish hatred is not a fantasy, for this information itself can be used for double & triple jeopardy against the true Jew and all of us for the synagogue of Satan is not the true Jew, but they are just as Jesus pointed out not of his Father or the descendants of Abraham, but the descendants of the father lies, Satan. We must render all this information as important but we must hold it carefully for it can be used against either side for more planned wars for us and the Jewish people. Now it is even more evident that the words of Jesus ring true at every level.
4 · January 3 at 3:01pm · Edited
Kathleen Wells Here you go, Tom:
http://youtu.be/Dda-0Q_XUhk
SIX MILLION JEWS 1915-1938 HD
10 newspapers from 1915-1938 before the Holocaust even happened. Here's some more articles: Library…
youtube.com
17 · January 2 at 5:04pm
Kasey Elliott Makes you think if WWII ended in September 1945,how the hell did the Palestinian massacre happen in 1946??? Makes me question the legality of truth that is of the Holocaust.
7 · January 4 at 6:10pm
Kathleen Wells Time for the truth to come out since Israelis are using the Holocaust to justify the ethnic cleansing of the Palestinians.
12 · January 4 at 5:01pm
Michael Scott Kerry Fletcher-evans its nothing to do with Islam and all to do with humanity. Its documented evidence that the filthy zionists have lied throughout history and used the true jewish to reach the positions of control we know see the evil *astards in today.
You like many others have bought into the lies and choose to ignore historical fact and rather turn to the emotional card hence why these satan following zionists have been allowed to get away with so much crimes against humanity.
The world has began to wake from its zombie sleep and realise the lies sold to them over the decades. My gran father fought and died based on these filthy lies so I like many others have a personal issue with the zionists.
You continue to keep your head buried in the sand but do not try to do as the zionists have done and use the 6,000,000 rubbish to bolster a defence as history true history proves otherwise.
2 · January 8 at 1:22pm
Sam El Dik Terrible stuff …… but something we all know …. how ever you cant talk about it or get labelled as anti semite
2 · January 7 at 2:24pm
Willie J Lott That's correct Israel didn't exist before 1940 . So you tell me who the rightful land owner was. When Jesus was supposedly born Jerusalem was a Islamic city
2 · January 5 at 11:49am
Olle Von Högsten This is truly Remarkable
2 · January 5 at 5:58am
Manuela Canedo I respect all victims of the holocaust… jews ruso gipsy… But now we have one in palestine…
2 · January 5 at 5:04am
Kathleen Wells Please make this video go viral, please. All around the world, in countries, where folks can view. Start to tweet it.
8 · January 2 at 5:00pm
Kathleen Wells It's not jew hating, Heidi Kjelløkken, it uncovering a truth , i.e. the 6 million figure was used since 1915. Why?
7 · January 4 at 9:24am
Ahmed Rizki The plan to occupy Palestine was put by Theodor Herzl when he first formed the Zionist group in 1886
1 · 12 hours ago
Khairunnisa Abdullah Assegaf Very good post!!!! Thank you so much!!!
1 · January 2 at 7:20pm
July 30, 2011 12:29 pm
Over 150,000 social justice protesters took to the streets of 11 cities across Israel. They danced to musical performances by some of Israel's most popular artists, and chanted slogans demanding Prime Minister Netanyahu "go home".
"Home," according to the protestors, is not in the official residence of the Prime Minister is Beit Aghion.
Demanding that Bibi step down from office, the protestors took on a variety of anti-Netanyahu complaints. These protests, which some are calling part of an "Israeli Spring", began initially in response to the country's housing crisis. But since as they began gaining momentum, they have spread to a host of social and economic complaints, including overlap with the growing Israeli peace movement.
In Tel Aviv alone, estimates for the crowd ranged from between 50,000 and 75,000. The social justice and anti-Netanyahu slogans could be heard for miles. Taking the message right to his door step, 15,000 protesters descended upon Netanyahu's residence, where they shouted, "A whole generation wants a future."
In Haifa, over 10,000 protesters flooded the streets, while even in the small city of Kiryat Shmonah, a full 1,000 people marched in record numbers.
Netanyahu's political opposition leader Tzippi Livni (Kadima) noted the protests, calling upon Netanyahu to cancel the Knesset's summer recess and address the crisis sweeping the country.
Further critics demanded revocation of Israel's recently-passed anti-democratic laws. Just as many others said that Israel needs a change in how it approaches the Jewish-Palestinian conflict(s) and relations in general.
To understand just how big these protests are, nearly 2% of the entire Israeli population took to the streets. That may not sound like much, but this is much higher than the turn out for protests, percentage-wise, in nearly any country. When crowds of discontent citizens swell to such levels, historically that is a sign that social revolution is at hand. Had this same percentage taken to the street in the United States, by comparison, we would be looking at protests equal to approximately 5.5 million.