Sunflower's 62nd Birthday Creaming – Defying Illegal Israel
"The only tyrant I accept in this world is the still voice within." – Mahatma Gandhi
MY SPIRITUAL JOURNEY GUIDED BY GOD'S ANGEL PROF BENNETT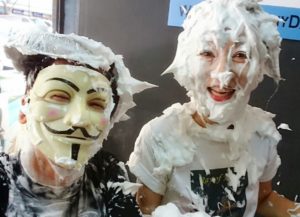 Sunflower's 62nd Birthday Creaming – Defying Illegal Israel
Published on Jan 19, 2017
Sunflower braves attacks by the 7 Zionist Bitches to speak out on issues facing our one world. We must all help to advance a peaceful agenda and participate in the Soft Revolution and World Harmony Day, 20th February 2017 for 2 minutes of Peace Silence. Please visit www.WorldHarmonyDay.com/ and support Sunny Chong's first E-Book, "Sharing My Vision of Architecture" athttps://payhip.com/b/5P6W
WOMAN SPIRIT – DEDICATED TO ALL WOMEN OF THE WORLD
Published on Apr 11, 2010
Created by: Michelle Sherliza, OP – Music: WOMAN SPIRIT by Karen Drucker from her CD – Songs of the Spirit! Dedicated to all the marvelous women of our World!
SHAME SHAME SHAME FUCKING NO DICK SHELDON ADELSON AND SMELLY CUNT CHOW CHI BAI MIRIAM ADELSON USED THE 7 AMERICAN ZIONIST CCB BITCHES & DAN JOHNSON TO ATTACK AN OLD WOMAN SUNFLOWER CHONG SUN WAH IN SINGAPORE!!
I reported to PM Lee on the attack by Smelly Cunt Miriam!
http://sunflowerchongsunwah.com/i-reported-to-pm-lee-on-the-attack-by-smelly-cunt-miriam/
Where is Solutions Institute President DAN JOHNSON Integrity because he wiped out World Harmony Day site?
http://sunflowerchongsunwah.com/where-is-solutions-institute-president-dan-johnson-integrity-because-wiped-out-world-harmony-day-site/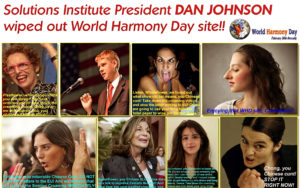 On Tuesday, January 24, 2017  10:36 PM, marie <marie@hotmail.com> wrote:
Dearest Sunflower, Jigna got this message from one of her friends. I think you will understand about what happened with the CCB Bitches after Janie's message. Sorry to be the one to send you this filth from the Zionist Bitches. Love you endlessly, Marie
From: Jigna Gupta <hair_dresser@hotmail.com>
Sent: Wednesday, January 25, 2017, 1:57 AM
To: marie@hotmail.com
Subject: Fw: Did you get this, Jigna? – Another one, Marie!
Hi Marie, I just got this message from another member of Sunflower's Pacifist Army! What is going on? Love, Jigna
From: Christine <Christine@hotmail.com>
Sent: Tuesday, January 24, 2017, 8:48 PM
To: hair dresser
Subject: Did you get this, Jigna?
Hi Jigna,
I got this message and am wondering if you got the same one. Since we are both in Sunflower's Pacifist Army, it makes sense this went to all of Sunflower's group, doesn't it? Is she really a prostitute??? I was so shocked and I did check to see if she did the 62nd Birthday Creaming and it isn't there on her blog, just a blank space where a video would be! Did she really lie to us? I don't know what to think. Please let me know what happened if you know. Thanks, Christine
Here's what I got:
Dear Sunflower Pacifist Army Member,
In the interest of providing you loyal supporters with truthful information, we are alerting you to the fact that Sunflower never did the creaming she promised to do for her 62nd birthday. She is a fraud and has misrepresented many issues and outright lied about the Zionist Women Forever. She never intended to do the creaming and her only motive is to try and sell you some book full of her ridiculous philosophy.
As many of you may know, Sunflower Chong is a prostitute that makes her living sucking men's cocks. She has been a whore for all of her life yet she represents herself as some kind of freedom fighter. Nothing could be further from the truth. She is a greedy Chinese whore that is trying to cheat you into buying her moronic book. Anyway, we thought you should know the truth and that she never did any creaming on her birthday!
Sincerely,
Women Interested in Truth
On Tuesday, January 24, 2017, 10:23 AM, hair_dresser <hair_dresser@yahoo.com> wrote:
Dearest Sunflower,
I finally have been able to receive Jane's message, here it is:
Dear Marie, please text me if this message gets through. This is the 22nd time I am trying to send it! Also, what Sunflower's Powerful Friends say about the YouTube view count is correct, I checked with YouTube. Please get this Sunflower as soon as possible! Love you, Janie
Sister Sunflower,
We have intercepted yet another message sent by the Zionist Women Forever. And after breaking their encryption, we provide the relevant portion to you for your review and enlightenment. We can confirm that the "Zionist Clamp" Trojan software is working to block views of your Creaming Video. Almost none of your Pacifist Army can access the video and the Zionist supporters you were trying to address were entirely blocked from access. This is unfortunate as the video you made offered the opportunity to disrupt their support structure and advance your Soft Revolution and World Harmony Day.
The malicious Zionist software is file/download specific, so they will have to remove it from their plant sites, but re-posting this specific creaming video will not help. We are sorry to say that your most recent creaming video was a wasted effort because the Zionist Women had advance notice that it was coming. The only way to effectively destroy the Zionists' support network and convey your message of peace and harmony is a "Sneak Attack".
Sister Sunflower, should you choose to do a "surprise creaming" to get your message through that was lost on this last creaming, we can offer you the following advice. You should NOT do any Pre-creaming Speeches, in order to keep the element of surprise, it is imperative that you only do a VERY brief speech and go right into taking the creaming in the same video segment.
Please ensure that footage is not converted by iSkysoft software. Do not mention that you are going to take another creaming, just do it. The Zionist Women Forever need 24 to 48 hours notice that you are going to post, do not give them that and they will not be able to employ the "Zionist Clamp" software in time to block your creaming video and messages from reaching the world. We wish you peace and love and will do our utmost to support your efforts to destroy the Zionists' evil plans. Their message follows:
"We have had success! The Chinese whore Shitflower's creaming video is fully blocked for all of her moronic Pacifist Army followers thanks to having hacked the entire e-mail list of hundreds of thousands of her idiot supporters! Also, NONE of our Zionist support networks can access her creaming either! Her YouTube views are less than 200! AND none come from her lying blogs!
OK, we will need to remove the Zionist Clamp software, but it will adhere to this creaming video she posted. Almost no one will be able to access the video no matter how many times she would try to re-post it! And we hope you all enjoyed that wonderful surprise e-mail we sent to all of the slut's followers! The Singaporean cunt will never be able to fight what we have communicated about her! She is so stupid!
Now, let's re-institute the plan to have 5 righteous Zionist Israeli women shave the whore's head bald and screw in the ass with a dildo. We want a complete recording of her head shaving and dildoing, OK? We assume you will not be able to organize the trip with the MOSSAD Office until late February or early March but start planning now! You almost cost us a loss of our supporters if we had not known about the bitch's plan for a vicious attack on us with her idiotic screaming video!!! Do NOT screw up again!"
Dear Sunflower, I will be checking to see that reference they made to e-mailing your entire support group and Pacifist Army. I will pass it along immediately if someone passes it to me. Please be careful, they still plan to come after you. With all my everlasting love,
Your Marie
ON MY BIRTHDAY THESE WERE THE CONVERSATION ON FACEBOOK.
Happy birthday Sunny!!❤ Keep fighting the good fight!!
YES, I DEFINITELY WILL !! I told my children when Mama NO MONEY God will send me money:)  Last night after  I came back from the wonderful evening with my children I opened a packet they have given to me and inside was $300:) On February my son will give me $200 so this means I will have the money to give to the new website designer for www.sunnnychong.com🙂
OK this blog also got the long story, in short, they keep blocking me to set this up but I MUST NOT GIVE UP and show to them we are not afraid of them!!
The book should or must be made available in SA, we are Briccs, so this should be made possibly China, it should be in bookstores, not by the Zionists who would like to control these ideas.
Sorry first, do not focus on this first, it will happen, this book must get out there. You see this internet trade, and buying I do not like to either, get something solid to.let people, touch it, it has the great impact I would like to share this info on facebook, but there is no option to share. I love your spirit, and I love just what you are saying, a child of God, and reference to dreams, and our dreams, this is beautiful and this no one can stop, never not this light.
Rodel Fallorina
In fact, I am advocating WORLD INTERFAITH HARMONY
Sunny
Good same same:)
Rodel Fallorina
IAM THE FOUNDING CHAIRMAN OF " INTERFAITH BELIEVERS FOR CHANGE" we have leaders from the different religious organization like christian, muslim, Buddhism and more than 20 religious organization.. We are advocating world peace and harmony. I am delivering message of peace and world religious harmony attended by leaders of different religion.
Sunny
So please lead 20th February 2017 and register it on the WHD Int Venue Chart and let the ball start rolling
Give people great hope:) Where are you living
Rodel Fallorina
Sure sunny… Lets us help one another to spread love and harmony to all mankind. I am from Philippines
Sunny
This is our job when we love God:)
Rodel Fallorina
I am helping Chinese investor here in Philippines if they have problem. Yes, Sunny. We love humanity
Sunny
OK, then you find a good location and get your brothers and sisters to join you and at 8.02pm observe a 2min peace silence:) hold a lighted candle will be great:)
Rodel Fallorina
On Feb 4, we will start our advocacy project " LIGHT OF PEACE". Okey then
Sunny
Better still if can get President Duterte to be presence:)
Rodel Fallorina
We will participate. We will organize the said activity
Sunny
World Harmony Day belong to 7 billion humanity:)
Rodel Fallorina
Yes, sunny. Where you from?
Sunny
My ultimate wish is when the world dismantle UN and replace with HN Harmonious Nations then the WHD will grace on its rightful place:) You share this great vision with your people and if can get them to create a song because Filipinos are very creative and talented:)
Rodel Fallorina
Okey, I will help on this
Sunny
We must get the whole world excited my powerful friends is Anonymous🙂
Rodel Fallorina
We will educate all nations about the advocacy. Please be our leader. You should lite the light.
Sunny
I don't want to lead because the true leader is the spirit:)
Rodel Fallorina
You will be guided by the holy spirit. We will support you
Sunny
The people who want peace, harmony and unity will take action not me I m just the spirit of Almighty God
Rodel Fallorina
What is WHD means
Sunny
The money if it ever comes in unstoppable is for the Palestinians in Gaza. WHD is World Harmony Day:)
Rodel Fallorina
Thanks. You have a bright idea.
Sunny
WHD – A day to celebrate for ALL humanity:)
Rodel Fallorina
You are an architect by profession??
Sunny
I have God great love and when I shine I shine for His true love for greater humanity🙂
Rodel Fallorina
We have a plan to make a peace monument in one of our island here in the Philippines. We call it " LIGHT OF PEACE" we are inviting everyone to share some of their designs and ideas. It must me taller than STATUTE of LIBERTY.
Sunny
No, I'm not an architect when you read my book you will understand:)
Rodel Fallorina
We will put it on CORRIGIDOR ISLAND. A war memorial island we wish to convert as peace island. Okey.. I will subscribe soon
Sunny
And if you like what I have written and believe in what I have written that art must be part of living please share🙂