Stinky Bitch Hana – 7th Bitch Bald
We succeeded in getting the 7th Chow Chi Bai Bitch STINKY BITCH HANA Head Shave Bald!!
Published on Dec 14, 2017
Dear Chow Chi Bai Miriam, did you really think our beautiful Sunflower could not take more pies? Did you think she was done humiliating you and taunting you? Well, you Zionist Bitch, Sunflower is back to expose your evil deeds and the immoral behavior of Zionists everywhere! Sunflower humiliates herself yet again by creaming her beautiful long, black, silky hair and pieing herself in the face over and over again. Please learn more by visiting her blog at: http://sunflowerchongsunwah.com/ameri…
America is a Dead Duck because it has a President name Donald Duck and he will soon be a roasted Peking Duck!!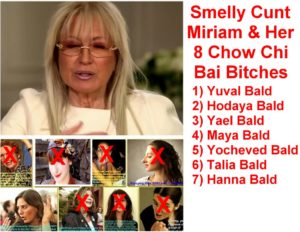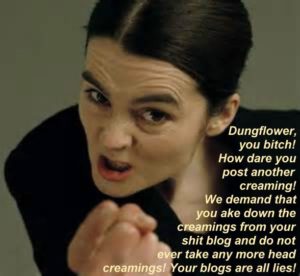 MESSAGE FROM MY POWERFUL FRIENDS:)
From: hair_dresser <hair_dresser@yahoo.com>
To: Sunflower Chong <sunflower_chong@yahoo.com>; Janeandmarie <janeandmarie@yahoo.com>
Sent: Wednesday, Decemberber 20, 2017, 9:29:14 AM PST
Subject: Message from Jane & Powerful friends – from Marie
Dearest Sunflower and All,
Janie sent over a message to me that appeared on her screen from Sunflower's Powerful Friends. Please read it carefully and note that there are photos at the end of this message. Here is the copy and paste of the message (love you forever, your Marie):
Sunflower Sister, you have accomplished tremendous things with your creamings and the world has been awakening to your revelations. We intercepted another message from the Zionist Women Forever and after decryption, we provide the message for your enlightenment below. Keep fighting and keep creaming Sister Sunflower.
Dear Zionist Sisters,
I am providing a brief note that Miriam sent to our offices introducing 2 new leaders of the Zionist Women Forever. As some of you may know, poor Hanna had her head shaved bald just after the Singaporean Whore did her creaming video. Miriam was beside herself with anger and threatened everyone.
She has forced Talia to continue working in IT for our group with her bald head. Every week, Talia is forced to sit in our offices with a head full of shaving cream and have her head shaved bald of any hair that has grown out during the week. Miriam said she will keep having Talia's head shaved until she completely stops the Chinese Bitch from posting any more videos.
Poor Talia isn't allowed to wear a headscarf and she is constantly humiliated. But the good news is that her IT attacks are stopping Shitflower from posting in her blogs. And, the bitch isn't going to sell a single moronic book!
Long live Zionism and Israel, Shira
OK, here is the note from Miriam:
Zionist Sisters of the Zionist Women Forever,
While I am very disappointed that the Goyim Singaporean prostitute, Sunflower Chong Sun Wah, keeps posting her disgusting creaming videos and taunting me, we have had some recent victories. Despite her immense reach with her videos and influence with government leaders around the world, the Chinese Bitch was unable to stop Trump from recognizing Jerusalem as the legitimate capital of our dear Israel. And I personally convinced him to announce moving the US Embassy from Tel Aviv to Jerusalem. I believe that Sunflower Chong will quit her creamings because our recent victory spells the end of any "peace process".
In order to strengthen this important Zionist advocacy group which promotes our Zionist agenda to the Goyim masses, I am adding two new leaders to the Zionist Women Forever. They are both strong Zionist women who can develop a plan to stop this Chinese "thought leader" from influencing leaders and find ways to destroy her credibility. Please meet Yeshiva and Agam (you will find their photos enclosed). Please give them your complete cooperation and loyalty.
I remain yours in Zionism for our beloved Israel,
Miriam