Silly Whore Shira – 7th Bitch Bald
We succeeded in getting the 7th Chow Chi Bai Bitch SILLY WHORE SHIRA Head  Shave Bald!!
.
JOIN ABEL DANGER TO SAVE AMERICA!!
http://sunflowerchongsunwah.com/join-abel-danger-to-save-america/
The Final Creaming – For World Harmony Day
Published on Dec 24, 2017
Sunflower takes her final creaming, not only for Bald Zionist Bitch #8, but also for World Harmony Day. She has done everything she can to support freedom for the Palestinians and to promote peace through 2 minutes of Peace Silence on World Harmony Day. So, it is time for Sunflower to move on with her life. Please read more at:
http://sunflowerchongsunwah.com/donal…
Donald Duck Trump Sucks the Cunts of the Zionists!!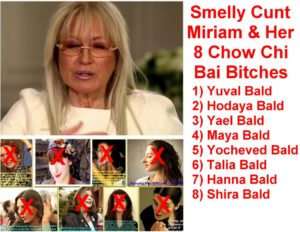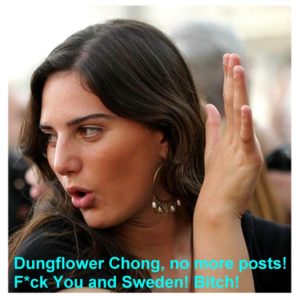 .
MESSAGE FROM TECH LADY:)
From: hair_dresser <hair_dresser@yahoo.com>
To: Sunflower Chong <sunflower_chong@yahoo.com>; Janeandmarie <janeandmarie@yahoo.com>
Sent: Sunday, November 26, 2017, 9:39:38 PM PST
Subject: Message from Tech Lady – from Steve
Dearest Sunflower,
I have heard back from the Tech Lady after you asked about the Zionists' attacks on your blogs/web sites and she has come back with some interesting information, my love. Here is what she sent me:
Dear Steven,
I have done some investigation into Sunflower's difficulties with her sites and the Zionist incursions that are causing her such problems. I looked at the sites and it appears that the Jews are employing a "barrage attack" on her blogs…meaning that they are constantly launching limited strikes that will make her work on her blogs frequently interrupted or blocked. They are using a lot IT people to do this and I cannot protect her blogs/sites from so many attacks (I suppose they realize that Sunflower might have some Tech help).
Since I cannot protect an entire blog AND I cannot expose my technical capabilities or I could be blocked from helping her in the future, I must limit my assistance and "protective shells" to Sunflower's Creaming Video Posts (when she is waiting for the YouTube video link and does not want the Zionist Women Forever to use their "Zionist Clamp" software).
The other really critical information I have discovered for you and Sunflower is the current strategy that Miriam Adelson's Zionist Women Forever Group is using against Sunflower and what they hope to achieve! This is VERY IMPORTANT, please read the following CAREFULLY:
I infiltrated an incredible number of Zionist chat rooms where they use chat forums to discuss strategy and trade information….that is why it has taken me longer to reply to you. What did I discover? Miriam's group has a strategy of using attacks on her blogs to tire her out and exhaust her so that she will stop her creamings. They said, "The Singaporean whore will quit her creamings when she finds that her blogs are paralyzed by our attacks!" It appears they are absolutely terrified of Sunflower doing 5, 10, 15 or 20 more creaming videos and eventually destroying them.
The second critical piece of information that I collected is that they (Zionists) intercepted some e-mails sent between our dear Sunflower's supporters and they believe they have some inside intelligence from within Sunflower's Pacifist Army. They said, "The Chinese bitch is only going to do another creaming or two and then she will quit the creaming strategy. With our constant attacks on her blogs and web sites, she will not return to her idiotic imbecilic creamings. She will QUIT THEM!"
That is what I have discovered and I will try to add more information as I gather it as long as I am not discovered by the Chat Room Zionists as a spy for you and Sunflower. With all my affection for Sunflower and you, I remain, Your Tech Lady
From: hair_dresser <hair_dresser@yahoo.com>
To: Sunflower Chong <sunflower_chong@yahoo.com>; Janeandmarie <janeandmarie@yahoo.com>
Sent: Wednesday, September 27, 2017, 8:40:08 AM PDT
Subject: Fw: Massively Important and Urgent MESSAGE! – The Tech Lady – from Steve
Dearest Sunflower and All,
The Tech Lady got back to me very fast and we all have to understand this situation and take it very seriously. Here is what she wrote to us:
Dear Steven,
I am very concerned about the message that was intercepted by Sunflower's Powerful Friends from the Zionist Women Forever. This is a very serious matter and you, your team and Sunflower must take it very seriously.
I have checked the internet chatter, researched what they seem to be alluding to in the way of spider bots, etc. and talked to a few people I consider to be the top IT people today. And we all agree on three things:
If their software does work, they could destroy your entire network, mailboxes, computer hard drives, phone software AND Sunflower's blogs.
It appears they can only deploy this software ONCE because of their own exposure in trying to deploy this malware, so if you can avoid falling into their trap, they will fail.
The ONLY way to defeat their "Zionist Screw" malware is to have total "radio silence" from 12:01am Singapore time on October 3rd through 12:00 midnight USA West Coast time on October 23rd!
Let me make that VERY CLEAR…every one of you (Geena, Jew Creamer, Steven, Marie, Annie and Sunflower) must NOT COMMUNICATE at all from October 3rd through October 23rd by any and all e-mail addresses! No messages at all; NONE! Don't try making up new e-mail addresses; don't phone each other, NOTHING!
If you take my advice (and that of all my colleagues I talked to), you can avoid being damaged by this evil Zionist software and they won't be able to do it again. If you don't, everything you have worked for could be destroyed. Make sure Sunflower understands how serious this situation is; she cannot underestimate these people, they are desperate. I am exhausted, but I will come back later on my analysis of the latest creaming. As always, I remain, Your Tech Lady
OK, everyone, we are lucky that Sunflower's Powerful Friends were watching out for us! We all must adhere to the Tech Lady's advice…NO communication from any e-mail address that you ever had; no communication between any of us during the period of the dates above.
Sunflower, you need to adhere to this also; just keep in your mind how you felt when the World Harmony Day site was destroyed….and think how devastating it would be if your blogs were destroyed by these evil bitches! Everyone needs to respond and agree, OK?
OK, let's see what the Tech Lady sends on the latest creaming Sunflower did and if Janie has any info for us. Love to all, Steve