Old Cunt Hodaya – 2nd Bitch Bald!
We succeeded in getting the 2nd Chow Chi Bai Bitch OLD CUNT HODAYA Head Shave Bald!!
The Creaming – For Bald Zionist Bitch #2
Published on Aug 10, 2017
Dear Brothers and Sisters around the world, our lovely and brave Sunflower has once again taken a humiliating head creaming to expose the Scumbag Adelson's and their evil puppets, the 6 Chow Chi Bai Zionist Women Forever! She calls on the Smelly Chow Chi Bai Bitch, Miriam, to shave the head of yet another Zionist Whore because Sunflower is, once again, publicly humiliating Ugly "Wig Head" Miriam! To read more, please visit this link in Sunflower's Blog: http://thepoisonappleoftheworld.com/why-jerusalem-is-so-important/
WHY JERUSALEM IS SO IMPORTANT?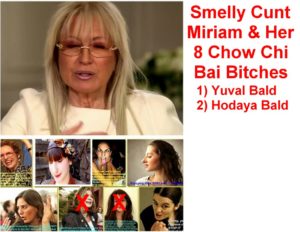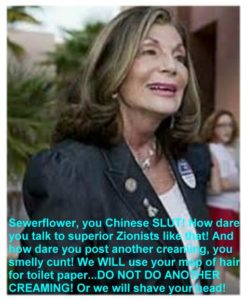 MESSAGE FROM MY POWERFUL FRIENDS:)
From: hair_dresser <hair_dresser@yahoo.com>
To: Sunflower Chong <sunflower_chong@yahoo.com>; Janeandmarie <janeandmarie@yahoo.com>
Sent: Friday, August 11, 2017, 5:51:55 PM PDT
Subject: Janie's message – from Marie – PLEASE READ Sunflower!
Dearest Sunflower and All,
Here is the update from Jane about the video views and she got another Powerful Friends message….This is AMAZING! Sunflower, please take your time reading this….there is a LOT of information that will make you VERY happy, sweetheart. And maybe some guidance for the next creaming! OMG! With all my forever love, Marie 🙂
Subject: Bald Zionist Bitch #2 Video YouTube Views and Another Powerful Friends Message
Dear Marie,
Please let Sunflower know that she continues to break records for the REAL VIEWS on YouTube! My very secret contact at YouTube told me the actual view count was over 2,000,000 views in LESS THAN 24 hours this time! WOW! WOW! WOW!
And soon after I uploaded the Bald Zionist Bitch #2 video, I got another message from Sunflower's Powerful Friends….I have learned to keep the computer on after I upload her videos….here is what was on my screen (it was a lot!) and that I wrote down before it disappeared:
Sunflower Sister, you are bringing the truth to millions with your creamings. The support for the Zionist Women Forever is eroding fast. Sunflower Sister, you must keep going as the web is full of support for you and your creamings that expose Evil Zionism's grip on global leaders and the irrational imbalance that exists with the overwhelming influence of a wealthy few.
We intercepted another message between the Zionist Women Forever that was quite interesting and is related to the last one we made available to you. We have provided the relevant portion of the message that we believe you will find enlightening.
First my niece and now Hodaya! Now we are only FIVE!!! Who would have thought that Bitchflower Chong would do ANOTHER ridiculous head creaming video so soon?? Now Hodaya has quit the Zionist Women Forever leadership team after what was done to her by those Amazons from Israel.
I was THERE when the Israeli Military women showed up. They held Hodaya down and shaving creamed her head and face! They scrubbed her beautiful hair with the shaving cream! Then they told her to submit voluntarily to having her head shaved with one of those barber razors or she could get injured if she struggled. Hodaya was sobbing and begging, but finally, she submitted to the humiliation of bending forward and offering her head of creamed hair to those large women to shave AND THEY DID. I watched one of them use the razor to shave off big clumps of her beautiful Jewish hair until her head was bald. And then, they shaved off her eyebrows, too!!!
After they took her to Miriam's offices to be seen by everyone there and publicly humiliated her, she quit our Zionist Team in disgrace and embarrassment. She was so proud of her hair and they wouldn't even let her wear a scarf over her shiny bald head! Those women escorted her out of the building and forced her to take public transportation home with a shiny bald head! She said she would never come back to the group; she could not take facing us after having that done to her.
The women told me that Miriam is irrationally and hysterically angry because of this newest creaming video by the Singaporean Slut! She sent a letter by courier today saying that the five of us had better find a way to stop these creaming videos from being seen to discourage the Chinese Bitch from doing anymore! Can you believe that scumbag prostitute ORDERED us to make a video and APOLOGIZE to her in order to stop her nonsense???
Miriam wrote that NO Zionist Woman Forever leader is EVER to do that or she will no longer fund us and we can't survive on contributions from our ZWF supporters because that lying Goyim Bitch has taken away three-quarters of our support group!! Can you believe that many of our former members have been convinced to leave our group by her ridiculous head creamings and by her taking so many pies??
And those Israeli women told me that Miriam was obsessed with how many pies the Chinese Slut took! They said all she could talk about was why Shitflower took more pies in this video than the last!!! Miriam equated the increase in pies to an increase in Miriam's own humiliation at the hands of this Whoreflower Chong! Does that make ANY sense to you? And it appears she has lit a fire under Sheldon's rear, too! These creamings are making her CRAZY!
Do you think that Chinese Goyim Scum would do 5 more creaming videos? After seeing my niece's bald head and her total withdrawal from our group, I could not take having my thick, beautiful Jewish hair on my head shaved bald. Like Yuval and Hodaya, I couldn't stand the public humiliation either!
And like Hodaya wrote to us earlier (before her head was shaved), I don't think Miriam is backing off of her threat to have one of our heads shaved bald every time this Singaporean scumbag does a head creaming video that focuses on Miriam and our Zionist Group! How are we going to stop the slant eyed Whore's videos from being seen, maybe more tech attacks like the Clamp Software? But we still need to know when she is going to publish BEFORE the video is posted! We really need another leadership meeting, NOW!