Obnoxious Bitch Talia – 6th Bitch Bald!
We succeeded in getting the 6th Chow Chi Bai Bitch OBNOXIOUS BITCH TALIA Head Shave Bald!!
Published on Nov 27, 2017
Sunflower teaches Bitch Miriam a humiliating lesson as she pies herself multiple times and creams her head while taking a massive shaving cream shampoo! She exposes the evil and ugly Chow Chi Bai Bitches of the Zionist Women Forever and their propaganda of lies trying to justify Israel's theft of Palestinian land! To learn more, please visit Sunflower's blog by clicking here: http://thepoisonappleoftheworld.com/t…
THE TRUTH MUST PROCLAIM IN THE WORLD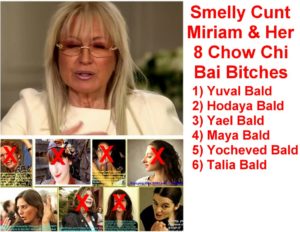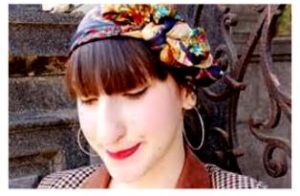 MESSAGE FROM MY POWERFUL FRIENDS:)
From: hair_dresser <hair_dresser@yahoo.com>
To: Sunflower Chong <sunflower_chong@yahoo.com>; Janeandmarie <janeandmarie@yahoo.com>
Sent: Thursday, December 14, 2017, 11:05:11 AM PST
Subject: Video #7 and Message from Janie – URGENT!
Dearest Sunflower,
Sweetheart, I got a message from Janie that another Powerful Friends message appeared on her screen. I will only cut and paste that message and not Jane's one because it only explains she received their message…here is the message from your Powerful Friends:
Sister Sunflower, the Zionist Women Forever have been very quiet in recent weeks and only today have we intercepted correspondence between them. We offer the pertinent part of their message for your enlightenment. Keep fighting and creaming, Sister Sunflower, they are very nervous and fearful of you, as is Miriam Adelson.
OK, ladies, we finally have some good news! The Singaporean whore, Shitflower Chong, has stopped creaming and she has shown a WEAKNESS. Even with all her power and global support and influence with various government leaders, the Chinese bitch was unable to stop Goyim Trump from recognizing Jerusalem as the capital of Israel!
And she could not stop Trump from planning to move the US Embassy from Tel Aviv to Jerusalem! These US government leaders are such willing puppets. OK, the slant-eyed prostitute got Talia's head shaved bald with that last creaming, but her power must be diminishing!
Miriam is even more furious and humiliated by her "cream pie taunting" but she and Sheldon are celebrating their convincing Trump to make the Jerusalem move! Miriam was especially influential in that effort and she expects the Chinese Cunt to give up her creamings since this new move is going to destroy the "peace process".
We are supposed to get some new women leaders for the ZWF according to Miriam….let's see what happens…she is feeling quite proud these days in her victory over the Singaporean Slut, Scumflower!