My relationship with my children had broken down after I was adamant in my commitment to fight for the Palestinians' cause by using the World Harmony Day platform:( (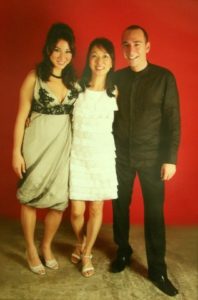 THE 7 ZIONIST BITCHES CALLED ME A COWARD!
Do you know that the 7 American CHOW CHI BAI called me a coward, "Zionist Women Rule Over Cowards Like Sunflower Bitch Chong" and this is far from the truth as you know how determined I am to rid of the earth of these devils? So instead of calling them dirty names in Chinese on my 6th PALESTINE FREEDOM CREAMING, which was on my birthday, I CALLED FOR THE WORLD LEADERS TO HOST WORLD HARMONY DAY IN THEIR RESPECTIVE COUNTRIES ON 20TH FEBRUARY 2016 http://thepoisonappleoftheworld.com/are-we-waiting-for-another-sept-11-before-we-come-together-as-one-global-family/
I had failed my ex-husband and my 2 children, BUT I CANNOT FAIL ALMIGHTY GOD because of the vow that I had made to HIM when I was a young child that I will save the world by first saving my soul! The solemn vow must be fulfilled no matter what and unfortunately, my ex-husband & children cannot understand what I am trying to achieve. They saw me doing so many creative works for free and NONE materialized instead they saw the civil servants chased me out of their office when I presented my proposals to them. http://sunflowerchong.com/wp-content/uploads/2014/05/SMUS-PRIMER.pdf 
The Evil Zionist Joos deleted http://www.sunflowerchong.com, which was about the importance of acquiring the Consciousness, knowing you are a Soul and being connected to God.
Singapore Art Center 
National Library
Singapore Management University
My children asked me, "What God really wanted you to do?" My reply was, "If I know, do you think I would still be running around?"
Let me share with all of you this intimate poem that I have written while watching my 2 young children playing together:
GABRIEL & GRETA, PLEASE FORGIVE MAMA
Young and innocent they are
Enjoying every moment of happiness playing together
Is a sight I wish to see forever?
Guilty and sad at times
To change their life so young
Am I a mother qualified to raise my young's?
To deny them their true father
Was never a motive I after
Only God can give me an answer
How patient and understanding I was
Still my marriage is at lost
Is it a sign to move forward alone to fight my cause?
I pray constantly to God for guidance
To help me reach the true direction
So my children will understand all my actions
To provide them the best
Will be my immediate test
I believe God is preparing me for a bigger test!
I hope they will grow up to understand
That this life is not about money and they
And help me to reach my dreams and aspirations then
Young and intelligent they are
Happy I should be
Yet I'm not, except filled with God good memories
Beautiful they are
I'm bless by God
Did He send them here to help and guide me if I'm lost?
What can a mother asks
Except to keep them healthy and smart
Nurturing and cultivating their minds and hearts
Sometimes it is sad to witness life is so unfair
When fairness I try so hard to seek
Can my children understand my aspirations and needs?
Giving them a future without a father
Was never my intention and answer
Except time will tell what I after
"Will I be happier if I'm simpler, without the worries of Singapore's future?" – Sunflower Chong 1983