Fuck No Dick Bastard Sheldon Adelson
LOOK AT THIS SCUMBAG SHELDON ADELSON STIRRING PROBLEM IN GCC!!
QATAR PSYOP BUSTED! LEAKED EMAILS: UAE-Pro-Israel THINK TANK Plan Meeting on Qatar Al Jazeera
https://www.youtube.com/watch?v=H8tgWrb0qS8
"Meanwhile, leaked emails show an exchange between the UAE ambassador in Washington, Yousef al-Otaiba, and the Foundation for Defense of Democracies, a research institute founded by and funded in part by Sheldon Adelson, Edger Bronfman, and other Jewish business leaders. The neoconservative think tank was established after 9/11 and enjoys excellent relations with Prime Minister Benjamin Netanyahu and other top people in the Israeli government and military."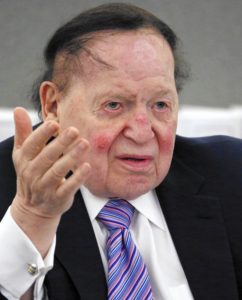 The Newsmakers: Qatar-GCC Row
Published on Jun 1, 2017
It was at a military ceremony in Doha when Qatar's Emir Tamin bin Hamad Al Thani took to the stage to make a routine speech. But then came the local media reports, saying he praised Iran and criticised the Gulf Cooperation Council – or GCC – for allegedly supporting terror. Saudi Arabia was singled out the most. Qatar's government, for its part, says its media outlets were hacked and that the Emir never made the remarks. But the damage was already done, and the nations responded by shutting down all of Qatar's media outlets in their territories. So what really happened and how will it affect cooperation between the Gulf states?
Leaked emails: UAE diplomat worked to harm image of Qatar, Kuwait
Published on Jun 4, 2017
Leaked emails: UAE diplomat worked to harm image of Qatar, Kuwait
Leaked emails from the UAE's ambassador to the US – Yousef al-Otaiba – show that he worked with the pro-Israel neo-conservative think-tank the Foundation for Defence of Democracies, to co-ordinate cyber-attacks on Qatar and Kuwait – accusing them of backing terrorism.
Al Jazeera's Rob Reynolds reports from Washington on how governments try to covertly influence opinion.
Gulf crisis: Surrender or dig in for the long haul
https://mideastsoccer.blogspot.sg/2017/06/gulf-crisis-surrender-or-dig-in-for.html
The Qatar spat exposes Britain's game of thrones in the Gulf
https://amp.theguardian.com/commentisfree/2017/jun/05/qatar-spat-exposes-britains-game-of-thrones-gulf-paul-mason
"Forget Terrorism": The Real Reason Behind The Qatar Crisis Is Natural Gas
http://www.zerohedge.com/news/2017-06-06/forget-terrorism-real-reason-behind-qatar-crisis-natural-gas