Dirty Cunt Yael – 3rd Bitch Bald!
We succeeded in getting the 3rd Chow Chi Bai Bitch DIRTY CUNT YAEL Head Shave Bald!!
The Creaming – For Bald Zionist Bitch #3 
Published on Sep 2, 2017
Our lovely and brave Sunflower continues to rub salt in the wounds of the Chow Chi Bai Zionist Bitches. She exposes the lies of the Scumbag Adelsons and the treachery of Satanyahu. She sheds light on the bullying of Bitch Sarah and her good friend, Whore Miriam. And, she selects yet another Zionist Bitch to have her head shaved bald and publicly humiliated by Cunt Miriam! To read more, please follow these links:
http://thepoisonappleoftheworld.com/w…
http://www.palestinebedrockoftheworld…
and:
http://www.palestinebedrockoftheworld…
Thank you for watching and enjoy!
WORLD ULTIMATUM TO SATANYAHU – 1967 Border or One Democratic Palestine!!!!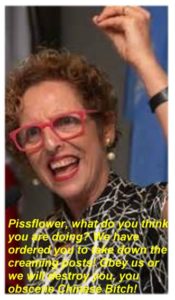 MESSAGE FROM MY POWERFUL FRIENDS:)
From: hair_dresser <hair_dresser@yahoo.com>
To: Sunflower Chong <sunflower_chong@yahoo.com>; Janeandmarie <janeandmarie@yahoo.com>
Sent: Tuesday, September 5, 2017, 1:46:35 AM GMT+8
Subject: From Jane – Zionist Bitch #3 Video and a message from her powerful friends – from Marie
Dearest Sunflower and All,
Please read this message from Janie….it is unbelievable! Take your time and please read thoroughly; there is a LOT of information.
Love you all forever and ever,
Marie
Subject: Zionist Bitch #3 Video and a message from her powerful friends
Hi Marie,
I think Steve did a great job editing the video! I know he was working night and day to get it ready for me to publish on YouTube and for Sunflower to have it for her wonderful Blog. It was a big video (26+ minutes!) and it was a lot of work to get finished but we got it up there on YouTube now.
Please tell Sunflower that I am happy to report that the first 24 hours of views of her video for Bald Zionist Bitch #3 were "very good". She had a very strong response and I also received a message from her powerful friends the following day after posting. Here is what appeared on my screen:
Sunflower Sister, you are accomplishing a lot with your creamings and there is a great deal of support for what you are doing and saying. We believe that you will ultimately win the day, but the road will continue to be difficult and full of challenges from the Zionists. Do not let them take away your energy with their attacks; keep creaming and keep fighting. We intercepted a message from the Zionist Woman Forever, Yael to her leadership group. We thought you might find it enlightening, Sunflower Sister.
Dear Leadership Sisters,
I am sorry to write to you with my resignation from our Zionist Women Forever leadership team. I know that leaves only four of you to carry on our mission to spread Zionism around the world and lead the ignorant Goyim around by their noses, but I am too humiliated to continue. After seeing the Singaporean prostitute's new video, and knowing what happened to my niece and to Hodaya, I decided to go to the offices of Miriam myself to have my head shaved bald rather than be forced into that humiliation by the Israeli women.
I was told to kneel down and bow my head forward and they then shaved my head bald. I am TOTALLY HUMILIATED! They paraded me around as an example of what happens when we don't stop the creaming videos of that Chinese Bitch….Miriam is beside herself with anger and humiliation. She cannot believe we let the dimwitted bitch post another creaming video. I am sitting here crying as I write this, and pause to feel my bald head since everyone around me knows that I got punished and humiliated. I can't face anyone except my bald headed niece! At least she has a little stubble growing out now.
I will always support Zionism and believe in the superiority of Jews, but you need to figure out some way to prevent the Chinese slut from posting these videos. The technical people did have some ideas and you need to listen to them. Miriam is livid that the Singapore scum called her out and taunted her saying she liked pies and even adding MORE pies to the creaming! You need to take some action or you will all suffer my fate.
Alright, last issue I need to cover is that you need to keep up the attacks on the blogs and on her stupid book publishing delusion. We must always keep up our sacred oath that she never sells one book! Block everything she tries to do and humiliate her by making her look like a stupid woman yelling at the wind and rain!
You have my resignation and I remain a faithful Zionist,
Yael