Big Nose Maya – 4th Bitch Bald & Dildo Fuck!
We succeeded in getting the 4th Chow Chi Bai Bitch BIG NOSE MAYA Head Shave Bald and she also got a Dildo Fuck with the Israeli Lesbians!!
The Creaming – For Bald Zionist Bitch #4
Published on Sep 26, 2017
On November 2017 Satanyahu must implement the 1993 Oslo Peace Agreement if not NO ISRAEL!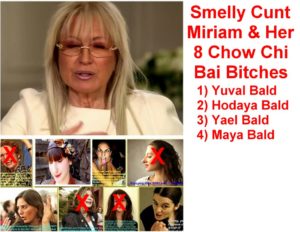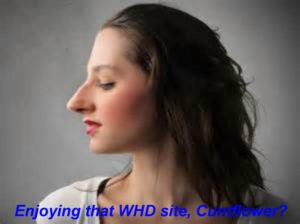 MESSAGE FROM MY POWERFUL FRIENDS:) 
From: hair_dresser99 <hair_dresser@yahoo.com>
To: Sunflower Chong <sunflower_chong@yahoo.com>; Janeandmarie <janeandmarie@yahoo.com>
Sent: Thursday, September 28, 2017, 4:05:54 AM GMT+8
Subject: Urgent! Message from Janie & Powerful friends – from Marie
Dearest Sunflower and All,
I just received this message from Janie (Sunflower dear, you must NOT post any part of the Zionist Bitch Yocheved's message that was intercepted by your Powerful Friends! The Bitches must not know that we have their plans!) Here is the message from Jane and the other messages:
Dear Marie,
Sunflower's video is doing "extremely well" based on the feedback from my contact at YouTube. Everyone will remember that I can no longer get view numbers from him anymore, but that was his description for a great response!
Also, VERY IMPORTANT, I have another message from Sunflower's Powerful Friends. It appeared on my screen today, many hours after I posted Sunflower's Creaming Video. Please give Sunflower and the rest of your group all my love, Janie
Here is what appeared on my screen:
Sunflower Sister, your creaming has created a great stir on the internet and around the world. We intercepted this message from the ZWF group. We hope you will find it enlightening. Keep fighting and Keep Creaming, Sunflower Sister, you will win! Here is the message in its entirety:
This is Yocheved. I am using another disguised mailbox; I hope this cannot be traced. We are now only 3 strong Zionist women leading our global group! It was confirmed to me that Maya was forced to have her head shaved bald after the Singaporean Whore's video appeared! Miriam is having a fit! I also heard that those (lesbian) Israeli military women shoved a dildo in Maya's ass before they shaved her head! Maya has resigned in complete humiliation.
Miriam is FURIOUS! That Shitflower idiot actually taunted Miriam calling her a "bitch" and asking her how she liked the 11 pies! That Chinese slut actually INCREASED the number of pies she took just to taunt and humiliate Miriam!!!! Can you believe it???
Now it is more critical than ever that we have a successful deployment of the "Zionist Screw"! OK, from today, our IT people will remove ALL malware they have planted on her blogs. It cannot be there for our software to work between October 3rd and October 23rd! So everything that is in or on her blogs from us WILL BE REMOVED IMMEDIATELY! We only have one chance to use the Zionist Screw and to fuck Cuntflower in her ass by destroying her network and her moronic blogs! I DO NOT WANT TO LOSE MY HAIR! We will be victorious! Zionist Women Forever